AMERINDIAN CULTURE TYPES ALONG THE NORTHWEST COAST
The Amerindian culture types in the Strait of Georgia region are chronologically defined as Old Cordilleran(ca.9000-6500 years BP), Charles(ca.6500-3200 years BP), Locarno Beach(ca. 3200-2400 years BP), Marpole(ca.2400-1600 years BP), Strait of Georgia(ca.1600-200 years BP), and Developed Coast Salish(post-European contact). These are the native indian tribes who migrated into the area or are the descendents of the early peoples who migrated into the area.

Glacier located near the B.C. coast.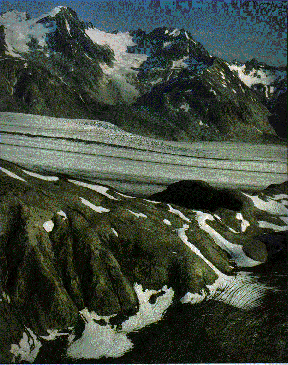 The majority of the Archaeolgical sites found in the region have been of the Locarno Beach type and later. No coastal sites inhabited during the period between deglaciation and the Charles type culture have been found in the region. This represents a large gap in the archaeological record which has been explained by rising sea-levels inundating these sites.

Therefore, there are many sites underwater which may hold clues to the life habits and migration of these ancient Indians. This is where micropalaeontological techniques become useful in marine archaeological site analysis.

Move On
Move Back
Home Page