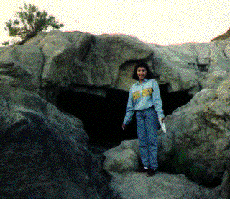 Hi! My name is Niranjala Kottachchi and welcome to my virtual museum display. At this writing (April, 1996) I am a 3rd year geology student here at Carleton University studying to become a paleontologist.

The Burgess Shale has always fascinated me since the day I knew I wanted to become a paleontologist and this project, I found, was a great way for me to express my interest. I have never been to the shale myself but hope to visit it someday. I'm also planning to carry out my undergraduate thesis on Burgess Shale fossils so I hopefully will then be able to get out there and view this remarkable deposit first-hand.

This is the first time that I have attempted a www museum display such as this. When viewing other people's web pages I always thought that it would be interesting to create my own. Hope you like it.

As for the near future, I will be attending our departmental 4th year geology field camp to Hawaii in early May (1996). Now that I've learned how to create my own web page, I'm considering creating another one when I get back from our field camp on the geology of Hawaii.


---
Literature Cited
Table of Contents